COURAGEOUS START
As all of us are aware, the world is still struggling with the effects of the COVID 19 virus. All of us are doing our best to keep everyone around us safe. We at Bal Asha have reworked our routine life to fit to the new change due to COVID19. We had to make a COURAGEOUS START because we need to do our best and continue doing what we do – provide rehabilitation to abandoned and destitute children and work for the welfare of underprivileged families, all while ensuring the safety of our children and staff.
Rescue & Care
We became home to a newborn girl child as her family could not take care of her. We provided counselling support to the family. After legal process the child was placed in Bal Asha Trust by the authorities. Due to COVID19 precautions, we isolated the child with two of our amazing child care team members for 15 days. After 15 days the child is now cared in our infant centre. We are happy to share that she is doing well.
We have now started the immunization routine of the children. All our children immunization schedule is now complete. We included Swine flu vaccine as another precautionary level for our children.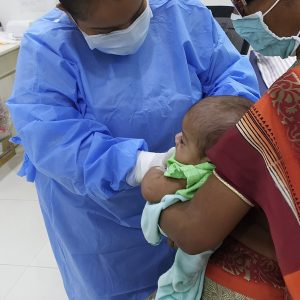 Virtually visit our infant centre
Festival celebrated
India is a country which celebrates many festivals, and we at Bal Asha love to celebrate them with our children and share our happiness with these wonderful souls. We celebrated Raksha Bandhan, a day dedicated to the eternal bond of a brother and sister. We also celebrated Gokul Ashtami and the Indian Independence Day. Our children eagerly now wait for the Ganesha festival.
Mental well being
Since these times of lockdown have been tough for all of us, we are paying more attention on the mental well-being of the children. Since the therapist cannot meet the children in person, we have arranged for laptops and tablets so that the children can engage in online counselling sessions. They immerse themselves in brain games, which provides mental stimulation. Conducting daily meditation sessions in the morning has also helped the children. We have utilised the technology like never before and we took the children on a virtual tour of a farm in California. The children enjoyed a lot.
Yay! Our kids found beautiful and loving home through Adoption
Even during these times of lockdown, our social workers are working tirelessly to place children in loving families and forever homes. We are happy to share that we placed four children in loving adoptive families in the past two months. Three of those children were infants and one of them was an older child (age 7 years).
Adoption Support
We are conducting online counselling sessions for adoptive families to see how they and the kids are doing. During one such call we came to know that one of our Adoptive father got infected with COVID19. We kept in touch with him and after few weeks of quarantine is safely back to his family. We are happy to share all rest of the families are doing well.
We are also supporting prospective adoptive parents through online counselling.
COVID19 Response in Communities
The lockdown has had a massive impact on our country's financial sector. Many people have lost their jobs and are under serious financial crisis. Hawkers, domestic help, daily wage labourers depend on daily wages and they are facing major financial. Therefore Bal Asha has taken an initiative to help such families and provide ration kits and groceries to them every month.
Bal Asha has so far provided more than 110 ration kits to impacted families living in tribal areas and Mumbai city. These groceries we provided were of utmost importance to ensure they get food during these difficult times.