June 2020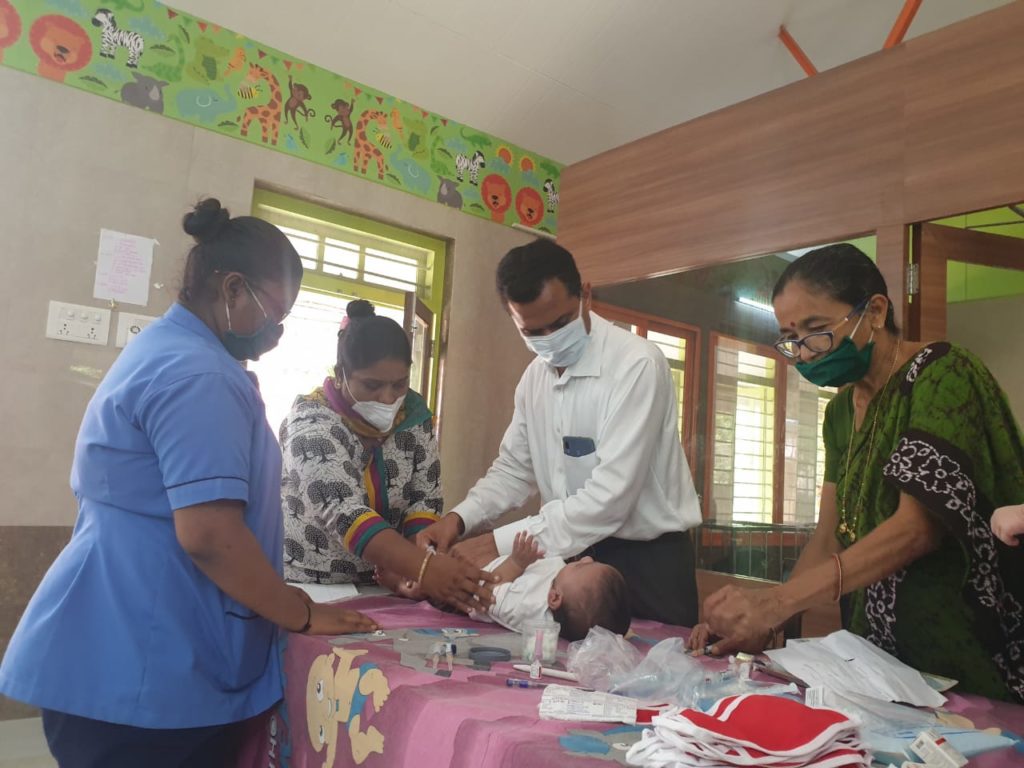 Keeping Our Children in the home safe!
Bal Asha Trust started preparing itself early in March 2020 as the impact of COVID19 started increasing in India. We kept ourselves updated with responses of communities in different parts of the world where COVID already had a devastating impact. We knew that social distancing and masks were the key to ensure the safety of our children and staff.
We take care of children below 12 years of age. Many of our children due to their special needs are immunocompromised due to medical and physical needs. We started educating our staff members with information available and how we could keep everyone around us safe. We provided hand sanitizers and masks to them. We stopped visiting non-staff members. The government declared a lockdown on 24/04.2020. We prepared a childcare team which started living in the children's home to take care of them 24 x7.
It was a big challenge, but our team worked hard to ensure that we had enough supplies in the past 3 months of baby food, groceries, vegetables, medicines, hygienic items, and clean water for our children. We are now taking care of our family which has more than 50 people! The mammoth task daily was to disinfect the premises 4 times a day. Monitoring everyone's health by recording their temperatures and oxygen levels three times a day. We are also keeping our older children engaged in various activities which were fun and educational based, psychological sessions with professional psychologists.
Our other programs Child Development Centre and POSHAN distribution were impacted as due to the lockdown and social distancing, they had to be closed. We are planning to open these projects gradually from 1st July 2020. Our team of social workers and therapists started supporting all these children and their families with online COVID awareness and counseling to navigate through these difficult times.
Bal Asha Trust ongoing Initiatives
Children are extremely vulnerable in any emergency and COVID is a crisis around the world. The financial implications are far more devastating in many families at grassroot level as it affects many areas of their basic survival. This has already impacted the beneficiaries we are serving. We are also gearing up to support many more who will now suffer from the pandemic.
Bal Asha Trust's projects have always been structured to support the most vulnerable children. We have the experience, knowledge and capacity to scale up these programs, if we receive the funds.
COVID impact on vulnerable children: – (Children's Home in Mahalaxmi, Mumbai)
Experts are anticipating that once the lockdown is lifted the number of children who might be abandoned or run away due to the impact of COVID19 will significantly rise in major cities including Mumbai. This may happen due to various reasons- financial, social and migration movements. We are gearing ourselves to rescue these children and bring them to loving and caring home run by Bal Asha Trust.
COVID impact on Malnourished Children (Poshan Project)
The health of children in low income families will be affected due to different impacts of COVID. These children are malnourished and they will be in danger if they miss out on basic diet. We are providing more than 100 children in Kolhapur and Mumbai with their first meal pack of the day. We are preparing ourselves to ensure that these children continue in the program till they are healthy and identify new children with Malnutrition to benefit from the programme.
We supported correctly identified families with monthly ration/groceries since the price of groceries has shot up. We have supplied cornflakes and masks to old age homes, children's homes, families in red light areas. We will continue to support more families who are impacted financially due to COVID19 within a period of months under the project in Mumbai and surrounding areas.
COVID impact on Education of children (Educational Sponsorship)
Financial implication of COVID will hamper the future of Education of children. Food and shelter are usually the priority in families which are from a low income group. The children, if not provided finances for their school fees and educational expenses might miss out on their Education in their prime years. We support more than 40 children on a yearly basis for education. We will be supporting more children this year, so that education of these children is not halted by COVID19.
How can you help?
Bal Asha Trust is not funded by any government, we rely entirely on charitable donations and CSR funds on a year to year basis.   The COVID lockdown has affected our walk-in donations.   The deployment of donations by to various urgent issues has also put a stress on the NGO sector.   We need funds to ensure that not only the currently rescued children in the home are well taken care of, but we are able to support many more vulnerable children with our initiatives who will be impacted by the pandemic. 
Please donate to us to support our COVID19 initiatives.